11/2010
Isabel Hamm Licht in Cheltenham
Just like branches of a blooming apple tree the chandelier's 1.10 to 1.90 metre long burnished brass tubes twine down from the ceiling of a hotel's winter garden in Cheltenham, northwest of Oxford.
More than 110 handcrafted glass globes are attached along the brass arms. During the day, the chandelier in all its transparency stays out of focus discreetly, turning into an accentuating highlight as soon as it gets dark and the glass of the winter garden reflects the light of the 37 LEDs (1.1 watt).
Redesigned and extended by Make Architects, London, the hotel reopened end of October.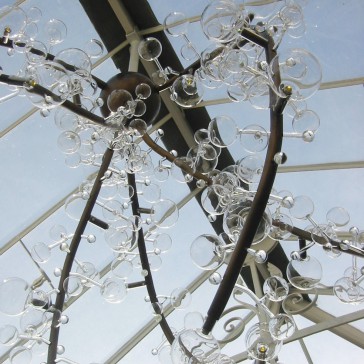 11/2010
isabel hamm licht in London
By order of Russell Sage Studio  we created a six-metre version of the "Fano" table chandelier to light up the bar of "The Hospital Club", a meeting point exclusively reserved for people working in the creative industry.
The approximately 860 handcrafted glass rods are illuminated by 20 bulbs.
www.thehospitalclub.com
www.russellsagestudio.co.uk